About Nagonoya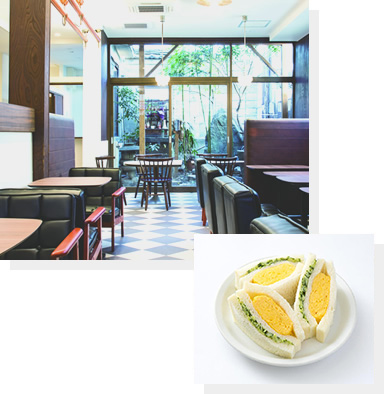 The Nagonoya is located in the Endoji Shopping Arcade, on the route between Nagoya Station and Nagoya Castle. The former merchant town arcade is one of Nagoya's oldest shopping areas, and retains an old-world atmosphere. It's near where 100-year-old white walled traditional Japanese warehouses, and tenement houses still stand, and surrounded by modern skyscrapers of the bustling city, providing an eclectic mix of modern and ancient Japan.
For over 80 years from 1931, the Nagonoya was one of the best-loved cafés in Nagoya's Endoji area until its demise in 2013. In 2014, the Nagonoya was reborn as a café restaurant & guest house. While the 2nd floor provides clean, comfortable tourist accommodation for international and domestic travelers, the 1st floor offers Nagonoya's famed egg sandwich loved by local people for a long time, and is open to travelers and the general public alike. The new Nagonoya, it's a new addition to the old Endoji area, and a place for international communication!

Nagonoya is located in the Endoji Shopping Arcade.
The 1st floor is a Café & Restaurant.
Despite its narrow facade, the building is one of the largest in the arcade, as it runs quite deep, and features an inner courtyard. There is seating for eight at the big counter table, and about 40 other seats including the comfortable old sofas. The Nagonoya provides free Wi-Fi access, and electrical outlets.

Enjoy watching people and life go by through the large windows looking onto the shopping street.

Enjoy a coffee, a sandwich, or the daily plate throughout the day, and in the evening Shogun tebasaki chicken wings jointly developed with Shogun Ieyasu. The Nagonoya serves a range of drinks too.

Clean, comfortable, affordable accommodation is available for international and domestic travelers on the 2nd floor. The hostel styled guest house is called the "minshuku" which refers to an old styled Japanese guest-house. Enjoy this original experience, new-style travel, in an old arcade area.
Dormitory and private style rooms are available. Dormitory rooms are ¥3,000 per night, with three sets of private sleeping pod box beds forming the walls. Dormitory rooms offer comfortable interior space, allowing first time dormitory users to feel at ease. The dormitory rooms provide better staying conditions and great value for money for the light traveler.
The Private Room is Japanese styled, complete with a traditional tokonoma alcove for a truly authentic Japanese experience. Private rooms can accommodate up to four people, and are available from ¥11,000 per room per night.
Nagonoya is fully equipped for self-catering requirements, including kitchen and refrigerator, and all cooking utensils. We also provide toilets, shower rooms, a washing machine, clothes dryer and other facilities. Guests and travelers are free to relax in the upstairs communal living-dining area.
We re-opened Nagoya's famed Nagonoya as a guest house, café & restaurant in the Endoji Arcade, and after much planning, we have been operating it since April, 2015.